CHANMAG Bakery Machine Co., Ltd. cordially invites you to join us at TIBS 2018 in Taipei during Mar. 15-18,
J area, booth no.:

J106 – J215
Our will showcase the Bakery Production Line series machine for the CM-MT160S Twin Twist Mixer with Removable Bowl, CM-200A Spiral Mixer, CM-DE6 Volumetric Dough Divider, CM-1000VRF Dough Rounder, CM-A30B Auto Dough Divider Rounder CM-L200T Tilting System products that will be available.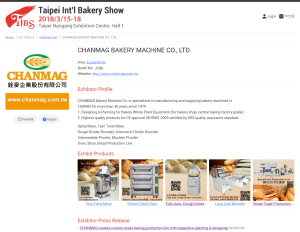 https://www.tibs.org.tw/en/visitorExhibitorDetail.asp?comNo=102753
We are looking forward to seeing you at the TIBS 2018.
For more information, please contact sales team.